Indirizzo spedizioni: Mauro Comodi via Ponte Vecchio, 82 C.a.p. 06135 Ponte San Giovanni, Perugia
mappa località latitudine N 43.09148° longitudine E 12.48089°
Partita Iva - 02716960543
Chi siamo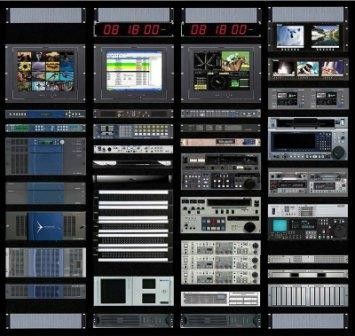 RIVERSAMENTI VIDEO è una società nata nel 2000, dopo appena 16 anni di attività siamo diventati i leader in Italia nel settore del riversamento video digitale e analogico grazie ad un costante sguardo alle tecnologie video più evolute nel campo audiovisivo, i nostri investimenti nelle nuove apparecchiature e nella ricerca di sistemi video fuori produzioni ma utili per il recupero di filmati e pellicole anche rari consente ai nostro centro video riversamenti di fornire servizi di alta qualità in tempi brevi e a prezzi concorrenziali.
Il servizio di acquisizione video e archiviazione delle immagini e dei video sono oggi più che mai, di vitale importanza nel mondo della comunicazione aziendale, televisiva e nel recupero del proprio archivio di ricordi dal formato video analogico a quello video digitale. Offriamo consulenza gratuita, preventivi e supporto tecnico per qualsiasi servizio di riversamento video, duplicazione audio e video, copia digitale, archiviazione materiale fotografico/video e recupero di audio e video da pellicole cinematografiche e amatoriali. Riversamenti Video opera su tutto il territorio nazionale e estero attraverso corriere espresso SDA o poste italiane.
Ecco l'elenco delle nostre principali attrezzature: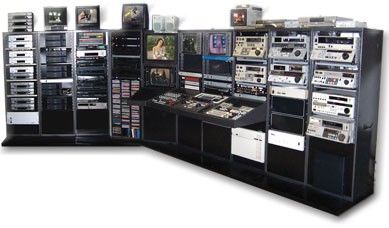 - MWA Flashscan 8mm e super 8 Telecinema digitale 3CCD
- Kramer VS 4X4 FW Firewire switcher
- Kramer VP 222 Monitor switch - 2 ports
- Blackmagic Design Decklink Plus Capture Card SD -SDI
- Datavideo DAC-100 A/D D/A video convertitore
- Sony Ampex BVW-75 Betacam SP
- Sony BVW-70P
- Sony DSR-85P Dvcam MiniDv Dv Video Recorder
- Sony DSR-1500AP DVCAM compatibile con i formati DV e DVCPRO
- Sony DSR-1500P DVCAM
- Sony DVW-A500P Digital Betacam Video Recorder
- Recorder Sony IMX MSW - M2000P MPEG IMX Betacam SP Betacam Digital Betacam Betacam SX
- Sony player J-30/SDI Digital Betacam MPEG IMX, Betacam SX, Betacam SP e Betacam PAL NTSC
- Telecinema digitale Flashscan MWA 8mm super 8 16mm
- Sony DSR-DU1 Video Disk Unit
- Sony DSR-80P e DSR-85P DVCAM Player
- Sony DSR 25P miniDV DV
- Sony BVW75P e BVW70P Betacam SP editing (2 unità)
- Sony DNW-A28 Beta SX VTR
- Philips VR2330 STEREO V2000 Video 2000
- RDR-GX3 DVD Recorder Sony
- Sony RDR-HX 750B
- Lettore DVD Sony DVP-SR150
- Lettore DVD Sony DVP-SR 300
- Sony EV-S1000E Hi8 Video8 Videorecorder PAL e SECAM
- Sony EV-C2000E Hi8 Video8 Videorecorder
- Sony EV-C500E Professional Video Cassette Recorder Hi8
- Sony SVP-5600 Professional Video Cassette Player SVHS HI-FI
- Sony SVO-5800 Professional Video Cassette Recorder SVHS HI-FI
- Sony RDR-GX210 DVD-Recorder
- Sony RDR GX350 DVD-Recorder HDMI 1080p
- Torre di duplicazione DVD con controller Witron 6 masterizzatori Pioneer e un lettore DVD
- SVO 5800P S-VHS Edit Recorder Sony
- DSR-70P Sony Edit Recorder DVCAM portatile con monitor lcd 6,4"
- DSR25P Sony Edit Recorder DVCAM
- BVR-75 Sony
- EV S880E Sony
- VP-9000P
- Sony VP 7040 Vcr lettore professionale Umatic PAL-SECAM-NTSC
- Sony Digital, Betacam SX Laptop DNWA 220 P PAL NTSC
- BVU950P Sony U-matic Umatic SP
- SL-HF400 Betamax
- SL-2401 Sony Betamax vcr
- SL-C30PS Sony Betamax vcr recorder
- SV300V Samsung VTR VHS Multistandard PAL-SECAM-NTSC
- N1460 Philips modello VCR
- N1700 Philips modello VCR
- STC-100 Datavideo Convertitore Pal-Ntsc
- DAC-10 Datavideo Media Format Convertitore
- VP9000P Sony U-matic SP Player
- VO9600P Sony U-matic
- VO-5630 Sony U-matic - SR8 plus Elca matrice 8 in 8 out
- PVS 820S Sony matrice
- PVM 9043MD matrice
- PVM-1454QM Sony monitor
- NV-FS200 Panasonic S-VHS
- FORA MV-40EP colour quad splitter
- Focus Enhancements FOC-MC2E Media Converter
- SV 300W Samsung videoregistratore multistandard
- PVM 14M2MDU 2 monitor Sony 14 pollici
- PVM Sony 8041Q 8 pollici
- LM-10W monitor Jvc lcd professionale composito S-video YUV
- ACRON 504
- SB V900 Sony
- Delta 4 Sound Silma proiettore
- Silma Alfa 07 Sound System proiettore
- EUMIG MARK S 804 D 2-Track 8mm e Super8
- Sankyo Dualux-1000 Super8 8mm - Video 2x4 Super Grundig
- Nuova Faro 333 bobine audio Geloso
- 4003 Castelli bobine audio tipo gelosino
- Registratore digitale Tascam DA-20 mk2 DAT Digital Audio Tape
- AUDIO-TECHNICA AT LP120 USB giradischi
- Teac A-3300SX 2-track reel to reel tape deck with 3M 996 audio mastering tape on gold reels
- Nikon Super Coolscan 5000 ED con accessori SF210, IA-20 IX240 APS, SA-30 35mm Roll Film e SA-21
- Nikon Super Coolscan 9000 ED scanner per pellicole negative e diapositive medio formato 6x6 6x4 6x9 etc.
- Epson Perfection Photo 4990 e V750
Elenco di alcune delle aziende ed emittenti televisive che hanno richiesto i nostri servizi (trasferimenti video, duplicazioni dvd video, scansioni diapositive e negativi, transcodifiche ntsc, riversamento pellicole cinematografiche, digitalizzazione archivi audio/video) in tutta Italia:

Studio Rocchetti Comunicazione - Tecnostudio - Moviechrome Snc - Fiori di Zucca S.r.l. - ComboCut Film srl - C.G.S. La Giostra - Wpr Srl - Quarta Caffè S.p.A. - Fondazione Pergolesi Spontini - Asa Automobilclub Assisano - Cidiverte Spa - Nordecom snc - Videolab - C.I.D.I.S. Onlus - ZoneCreative S.r.l. - Tele Radio Orte - All Foods Srl - Caos sas - Concetti spa - Centro Democratico - TR Informatica sas -Fotografando - Veteran car club Torino - Associazione Soulestelh - Coram unipersonale SRL - Garzi Art sas - Università degli Studi di Ferrara - Rete delle Donne Antiviolenza Onlus - Bignami S.p.A. - Dott. Mariano Pravisani & C. srl - Texil S.r.l. - Arc 333 s.a.s. - ComboCut Film srl - Azienda Teatro Del Giglio Atg - PassioneFoto - Officina Giacco srl - Promovideo - Automotoclub Storico Assisano - Chibet Comunicazione Sas - Tlt Telecupole (tutto archivio storico programmi televisivi) - Child srl - L'Altra Napoli Onlus - Associazione Culturale 3D - Sinapsi Srl - Bubola&Naibo Srl - Dellera Sas - Legal English - Sige Spa - Superfoto - Anni Luce Srl - Nova-T - Museo Storico del Trentino - Areafilm - Associazione Culturale Think Tank - Jupiter Communication Srl - Fondazione Arte - Umbria TV (emittente televisiva) - Studio ingegneria Nasin - My streaming - Cost-Fer Srl - Valagro Spa - Vivi la Villa - Federazione Tennistavolo - Onscreen Communication - Terme Caronte Spa - Quadra Company - Alfa international Srl - Blue Star - Kern Sistemi Srl - Arpa Umbria - Strega Alberti - Tesar Srl - Connectis - Hinowa Spa - Ideal Graphic - Ges Energy Service - Ecocongress - Flc Cgil - Vision Plus Srl - Gilc Srl - Soundstore - Big Srl - Immagineria Srl - Sistec Srl - In Forma Srl - Big Srl A.S.D. Dance - Margaritelli Spa - Teletna (emittente televisiva) - Club Officina Ferrarese del Motorismo Storico - Istituto Tecnico Industriale Statale "Alessandro Volta" PG - Fotorama2 S.r.l. - Concetti S.p.A. - Sonne Film Snc - Bams photo - F.M.E. Produzioni Televisive S.r.l. - Sige Spa Società industriale grafica editoriale - Comunicazione Sedicinoni snc - Casentino Immobiliare s.a.s - Rete delle Donne Antiviolenza Onlus - L'officina della memoria Aps - Fondazione museo storico del Trentino - Studio Tecnico Associato Graphos - Associazione Giovanni Secco Suardo - Ideal Graphic - Marulli Studio - Rotary Club Todi - Ass. Culturale Visionaria - VideoPR S.r.l. - Cosvig S.r.l. - Comune di Valstagna - MG Service s.n.c. - Acmesign - Elleci S.r.l. - Sinapsi S.r.l. - Vincenzi S.r.l. - Biesse S.r.l. - Moviebox s.n.c - Beep Omnimedia s.r.l. - Reality s.r.l. - Lucaroni S.r.l. - Boutique Creativa srl - Euroflex Srl - Associazione IDO Istituto di Ortofonologia

Spedizioni

Vi riconsegneremo il materiale inviato su tutto il territorio nazionale con corriere espresso SDA. Si prega di confezionare il pacco in modo sicuro, inserendo all'interno ed esterno del pacco indirizzo sia del mittente che il destinatario e in allegato gentilmente foglio con istruzioni e/o preventivo effettuato via email o stampando pdf e/o doc
La consegna del materiale a Riversamenti Video non potrà in alcun modo configurare una cessione dei diritti relativi al materiale stesso, che rimarranno di esclusiva proprietà del Cliente.
Il materiale originale viene sempre restituito integralmente.
Mauro Comodi M&G video production
Via Ponte vecchio, 82 c.a.p. 06135 Ponte S. Giovanni PG
Servizi video:riversamento, riversamenti pellicole, riversamento su dvd, riversare su dvd, da videocassetta a dvd, montaggio video,riversare videocassette, digitalizzazione video, video Perugia scannerizzazioni diapositive, trasferire filmini, conversione filmati di celluloide, trascodifiche, transcodifiche, scansione diapositive, ingest digitale, archivio video, scansione dia, duplicazione dvd e cd, masterizzazione dvd, ntsc-pal, conversione in digitale, digitalizzazione nastri analogici, masterizzazione dvd e cd, glass-master, conversioni audio mp3 wav, digital betacam copia, digitalizzazione nastri hi8.